Company History
The Beginning
In 1982, Sony came out with the SMC-70 computer, http://computer.wikia.com/wiki/Sony_SMC-70, "The SMC-70 was the first computer to have a 3.5 floppy drive and the only computer with 3.5" to run CP/M. The SMC-70's primary target was video applications including the educational/training market tied to the SONY Laser Disk player.
Al Brewster, an early (and current) member of General Electronic Systems Incorporated (GESI), a Sony dealer at that time, wrote a program to exercise the SMC-70's light pen interface. Sony wanted to sell it as a Sony product but they couldn't legally engage a dealer as an OEM. So Dick Lindheim, president of GESI said, "What if we give you a different company to pay?" Sony said OK, DiaQuest was born, and Sony sold the product under its own brand. It was used for art and notices on the USS Enterprise aircraft carrier among many other applications. The founding engineering team of DiaQuest became Bill Claghorn, Larry Abel and Al Brewster, with Dick Lindheim as President.
The Age of Computer Animation Begins
Atari was a DiaQuest client in those days. Atari's Michael Mackay and Sherman Kennedy wanted a computer-based VTR controller but recoiled at the price of the sole product available, the Lyon Lamb system at $13,000. Bill Claghorn, having just returned from a Sony professional broadcast automation seminar discussing SMPTE RS-422 communication and tributaries, felt that this could be done much less expensively with a card for the newly-introduced IBM PC. DiaQuest developed and marketed the first Sony and Ampex RS-422 controller as a board and software for the IBM PC. The board included an NTSC RS-422-A sync generator, an odd/even field sync detector, and GPIO interface. This forward looking engineering turned out to be a great idea as future decks took advantage all of these features. The odd/even sync detector was needed for the Ampex VPR-3, VPR-6, and VPR-80. The RS-170-A standard was important as the chroma sub-carrier needed to be phase locked to the horizontal sync.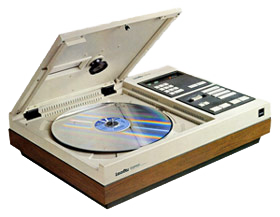 Howard Gutstadt, DiaQuest's first VP of Marketing had a relationship with Cubicomp. They thought they had a CAD product but Howard convinced them to go into video. DiaQuest co-marketed with Cubicomp for some time with the DiaQuest frame-by-frame-editing VTR control product.
DiaQuest developed and sold many products to Sony. There was a Mavica Visual Editor for the Sony Mavica product and many products related to the Pioneer VP-1000 Laserdisc player (shown here).
VTR control was expanded to Parallel VTR recorders including Sony and Panasonic with a Parallel board. Larry Abel came on board to make a PAL sync generator. DiaQuest produced an early NuBus board for the Mac as well. Larry Abel became the lead engineer for the Mac, in what was to become a long relationship as a Mac software engineer.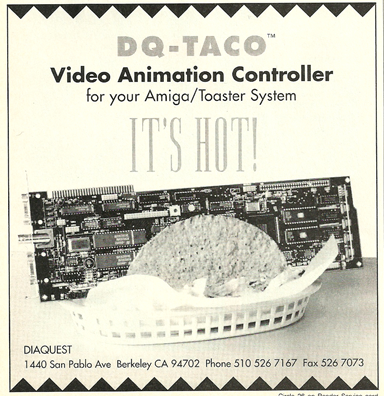 The Mac board was actually a PC on a NuBus card. A parallel control board was also developed for the Mac. DiaQuest even developed a DQ-Taco product for the Amiga computer.
DiaQuest Enables a New Industry
At the same time, Silicon Graphics did not have a real recordable video output board yet. DiaQuest proposed a stand-alone product containing a rack mount PC and Truevision Targa board. DiaQuest worked closely with SGI and WaveFront (a leading 3D graphics company along with competitors Alias and SoftImage) to market rendering output devices to VTR.
DiaQuest provided a crucial element for SGI by developing frame-accurate products for real-time capture and layoff, both standard def and HD. DiaQuest worked closely with the SGI engineering team to develop the tight timing standards needed to guarantee absolute frame accuracy.
DiaQuest ported their Animaq editing product to Irix for the SGI platform to support the expanding animation market.
Outputting frames to tape was still a very slow process. Larry Abel came up with the idea of Quick-Pass. The idea was to eliminate the need for pre-roll for each single frame recorded. Instead we would record a frame, load in the next frame in sequence depending on load time and then record that frame while the VTR was still running. If it took the time of three frames to load an image, we would record every fifth frame in the sequence of frames. That way only five passes were needed for the entire sequence instead of one pass with preroll for each frame.
Eventually, control protocols were also expanded to include JVC VTR and Laserdisc recorders as well as laserdisc recorders from Panasonic and Pioneer. This enabled early interactive projects and non-linear playback.
DiaQuest Brings the Age of PC and Mac to Broadcast Graphics
DiaQuest developed many plug-ins to facilitate the transfer of frames between Macs and PCs and Adobe products such as Photoshop, AfterEffects and Premiere. The result was that DiaQuest expanded and developed control products for Digital Disk Recorders, both direct SCSI and Ethernet. Larry Abel led the development the Macintosh products and Bill's team developed the PC products. This lead to DiaQuest becoming among the first few Apple Quicktime developers. Today the DiaQuest team has an unequalled knowledge of Quicktime and its tools.
DiaQuest worked closely with engineering from Accom, Ampex, Sierra Design Labs, DoReMi, Abekas and other DDR manufacturers. DiaQuest teamed up with many third parties for bundled products. For example, DiaQuest developed complex plug-ins for Autodesk 3D-Studio MAX.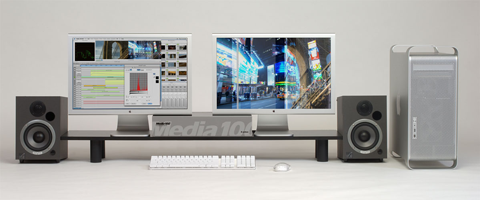 DiaQuest even provided frame-accurate bundled VTR control for the SGI release of Premiere. DiaQuest designed for ViewGraphics (now Optibase) the first real-time sustained HD playback of uncompressed video on the PC and frame-accurate capture and layoff. DiaQuest also provided bundled VTR control for Media 100 (right), a relationship that continues today.
DiaQuest Today
In 1999, DiaQuest was acquired by WaveFrame, and the team ported the WaveFrame Digital Audio Editing System from proprietary hardware to new-generation PC software and hardware platforms. During this time, the DiaQuest staff developed extensive knowledge in file based workflows and developed tools for working with OMF, MXF and AAF files.
In 2001, Advanced Systems Group, LLC acquired DiaQuest's intellectual property and formed DiaQuest Products, LLC.
In addition to providing ongoing support for all of the DiaQuest products available at that time, DiaQuest expanded its range of Photoshop and AfterEffects plug-ins to include tools such as real-time waveform displays with drag-and-drop level controls.
Today, DiaQuest develops software on an OEM basis for companies such as Adobe, AJA and Media 100 that provide capture and layoff capabilities, OMF translation and MXF file handlers just to name a few.
In 2009, DiaQuest launched two helper applications for Apple's Final Cut Server:
QueManager: an add-on for Final Cut Server to provide an order management system (OMS) similar to that of Proximity's Artbox product.
Archiver: to add the ability to extend Final Cut Server's archive function to include not only the standard clip functionality, but also Projects and Productions.
At 2012 NAB, DiaQuest introduced a new product, ProductionLink for Adobe, the Adobe CS suite plug-in for Avid Interplay access. ProductionLink for SCRATCH, the plug-in to allow ASSIMILATE SCRATCH and Avid Interplay to work together, followed at the 2012 IAB show. In just a few short weeks after the 2012 NAB show, ProductionLink is being integrated into some of the largest broadcast production facilities in the world.
DiaQuest also provides custom software engineering services for companies in the Film and Video space including:
A custom application for Pixar which they used with a camera and VTR to generate a videotape of a scene from storyboard drawings.

Custom AfterEffects plug-ins for Tippet (Jeff Stringer, Brennan Doyle and Josh Minor). These included a compound-levels color correction effect used in the final compositing pass before going to film, and an import/export plug-in for SoftImage files.

A Linux Quicktime lossless CODEC for Tippet (Dan McNamara) to transfer frame-by-frame Targa renders from Linux to Quicktime movies on the PC including source code for integration.

Custom code for the integration of Final Cut Server, including XML metadata interchange and archiving of projects.